Prerequisite:
Attending the Totally Composite course before the Totally Aesthetics course is required to ensure that all participants start at the same level. This foundation will enable us to advance rapidly and build upon the concepts covered in the previous course.
The Totally Aesthetics Postgraduate Diploma is a structured seventeen-day comprehensive year-long programme designed to give the clinical and non-clinical skills required to perform high-level minimally invasive restorative & aesthetic dentistry. Designed to build on skills gained in the Totally Composite courses, covering all other aspects of modern-day comprehensive dentistry. The course includes evidence-based theory, significant practicals (including phantom head), constant mentoring, and significant online resources.
A programme designed to give the knowledge, confidence, and skills to perform high-level, minimally invasive restorative and aesthetic dentistry. Suited to General Practitioners at any stage of their careers and all types of practice settings. The course is run from our state-of-the-art training institute in central London, featuring full phantom heads including micromotors, benchside monitors, live feeds from surgeries, and a plethora of digital scanners to supercharge the learning experience.
In addition to the considerable online resources on our learning platform delegates receive personalised mentoring and support throughout the programme and long after.
Upon successful completion of the course, submission of assessments, and payment of the awarding body diploma registration fee the delegate will be awarded a Postgraduate Diploma in Restorative & Aesthetic Dentistry (EduQual level 7). EduQual is a regulated awarding body, approved by SQA-Accreditation, a globally recognised national qualifications regulator in the UK
Reserve your space on our Totally Aesthetics course by signing up with an upfront deposit.
Course fees:
The deposit which is payable upfront is £1000 inc. VAT (Please note that this is a non-refundable deposit)
Five further equal installments of £2638 inc. VAT
Total amount = £14,190 inc. VAT for the whole year
2024 INTAKES – NEW – BOOK BELOW

Course Price
£1000 (NON-REFUNDABLE Deposit)
+ 5 x instalments of £2638 inc. VAT
TA27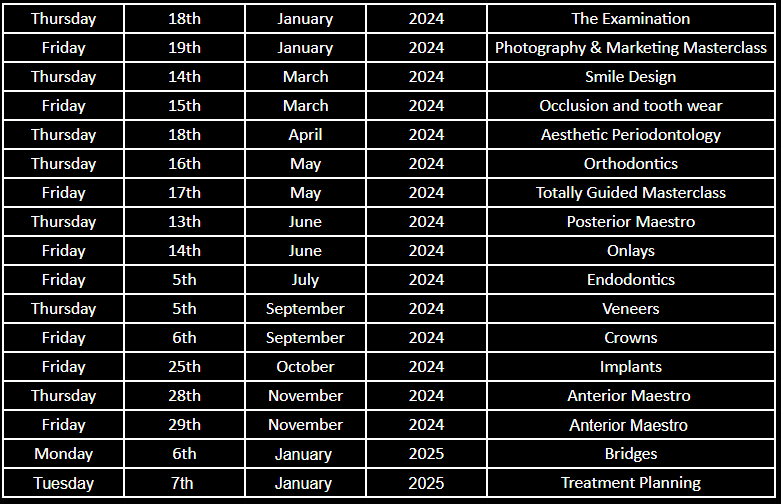 TA28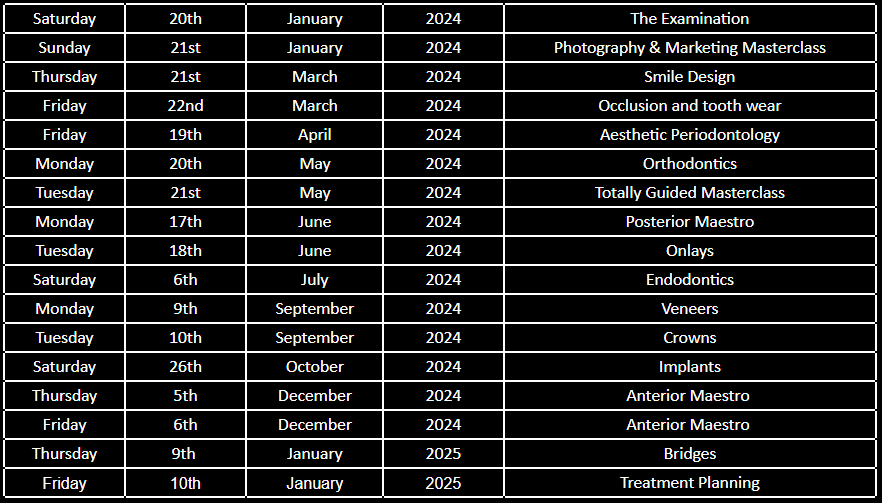 TA29
TA30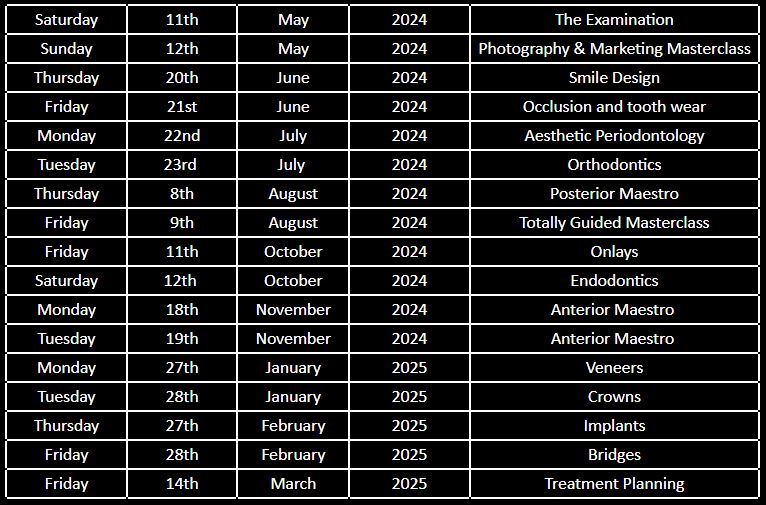 Postgraduate Diploma in Restorative and Aesthetic Dentistry
To achieve the Diploma you will need to complete the following:
– 2-day Totally Composite Course
– Totally Aesthetics Year Long Course
***Please note from January 2024 the Anterior & Posterior Maestro courses will be part of the Totally Aesthetics Postgraduate Diploma
In case you have completed these before you can reach out to us at training@freshdental.co.uk and we will deduct the cost from the total amount of the Diploma. You will not have to attend these days again.